| | |
| --- | --- |
| Posted by ♥lolaangelxx♥ on June 27, 2010 at 2:11 PM | |
Lola's Land needs YOU!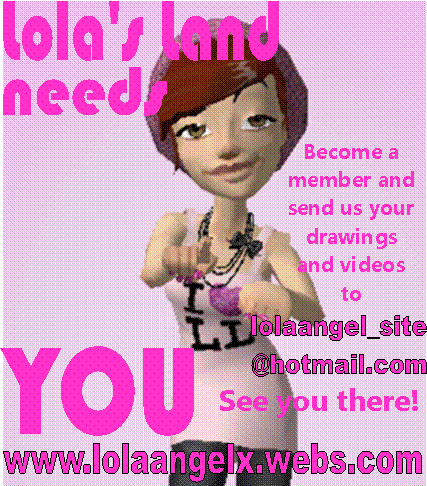 Yes, as you should know by now, I have made a new album in Lola's Wallpapers called Fan Photos and a new channel in Lola's Videos called Fan Films. We need you to send in pictures, drawings, cartoons, videos, ANYTHING to the sites email: [email protected]
Also, please become a member and invite your friends to join us to! The more members the more new people you can meet, and the more access you can have to the site! Go on - become a member and spread the word about Lola's Land to all your friends, be it through emails, texts, Facebook, Twitter, ANYTHING!
Thank you, my lovely Lola's Land-lubbers! Visit my twitter profile or if you're a member my profile in Lola's Members for my own personnal updates!
Lotsa Love,