| | |
| --- | --- |
| Posted by ♥lolaangelxx♥ on September 15, 2010 at 2:34 PM | |
ROCKOUT!!!!!
It's time to celebrate! I have loads of fun stuff to tell you about which is new!
First, the ipod in the sidebar has been brought back due to popular demand. Those of you who have been a member for a while will remember that yellow ipod in the corner of your screen, pumping beats. Well, now it's new and imrpoved; new songs, improved colours! Take a look: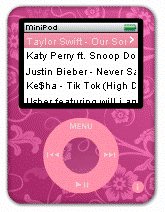 Pretty, huh? It's a traditional Lola's-Land-pink! The playlist is as follows:
Taylor Swift - Our Song
Katy Perry ft. Snoop Dogg - California Girls
Justin Bieber ft. Jaden Smith - Never Say Never
Ke$ha - Tik Tok
Usher ft. will.i.am - OMG
Taylor Swift - You Belong With Me
Lady Gaga - Alejandro
Eminem ft. Rihanna - Love The Way You Lie
Justin Bieber ft. Ludacris - Baby
Rihanna - Rude Boy
Lady Gaga ft. Beyoncé - Telephone
New songs will be added when they come out. If your favourite song is not there, comment here and we'll add it!

In other news, we now have 31 members encounting. Yay!
In even more news, a new competition has been made, offering you the chance to be a moderator for a day, choose the background for the website, change the slogan, have a video made and posted about you by Lola and a shoutout in Lola's profile and on twitter. All changes made to the website and your account shall change back at the end of the day. You can choose what date this occurs on. You must be a member to win.

To win, simply send or post a video of you doing something for Lola's Land in the channel Fan Films. It could be anything; eat a banana skin, write and sing a song, dance outside your school with your friends; crazy, loving, anything could win! Each month I will look at all the videos posted in that month and choose three to win the prize. So post your videos TODAY!
Lotsa love,